East Gaston High School
Class Of 1976
In Memory
James (Jimmy) (Tree) Loftin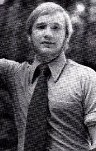 James Bradfored Loftin, Born July 2, 1958, age 39, of Newberry , SC, was killed Monday Feb. 9, 1998.
A notive of Mount Holly, NC, he was the son of James J. and Glenda R. Loftin of Denver. He attended Belmont Abbey College and was a graduate of Gaston College. He was employed by the VC Summer Station of SCE&G where he was a member of the Operations Department Test Group. Mr Loftin was a member of Newberry ARP Church. He was preceded in death y a brother, Joseph Curtis Loftin.
Survivors include his son, Bradford Chambers Loftin of Union, SC; his parents; his brother, Michael Blake Loftin and wife, Shere, of Davidson Landing: and his brother Anthony Scott Loftin of Raleigh and wife, Cherie, their children, Jaclyn Cherie Loftin, Ryan Scott Loftin, and Tyler Scott Loftin. Mr. Loftin's grandmother Isael Carnes Loftin of Mount Holly, also survives.