East Gaston High School
Class Of 1976
In Memory
Billie Thomasson (Ippolito)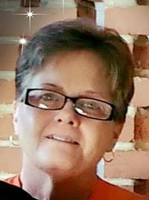 Billie Francis (Thomasson) Ippolito
January 17, 1958 ~ October 31,
Obituary
Billie Thomasson Ippolito, 62, passed away on Saturday, October 31, 2020. She was born in Mecklenburg County, daughter of the late William and Lura Hoffman. In addition to her parents, she was preceded in death by her brother, Jimmy Hoffman. Mrs. Ippolito was a member of Second Baptist Church, Mount Holly. She enjoyed fishing, and going to the beach, but her true passion was caring for her family and others.

She is survived by her husband, Tony Ippolito; her children, Jacob Laughlin (Connie), and Katie Phillips (Travis); her sister, Kathy Sprinkle; her brother, Danny Hoffman (Gina); her grandson, Neil Laughlin; and many aunts, uncles, nieces, nephews, cousins, and countless good friends.

A service to celebrate the life of Mrs. Ippolito will be held at 2:00 p.m. on Thursday, November 5, 2020 at the Woodlawn Chapel of Woodlawn Funeral Home, Mount Holly. Inurnment will follow at Hillcrest Gardens Cemetery. The family will receive friends from 1:00 p.m. until 2:00 p.m. on Thursday at the funeral home.

Memorials may be made to the COPD Foundation by visiting www.copdfoundation.org.

Condolence messages may be sent to the family by visiting www.woodlawnfuneral.org. Woodlawn Funeral Home of Mount Holly is caring for Mrs. Ippolitio's family.
To send flowers to the family or plant a tree in memory of Billie Francis (Thomasson) Ippolito, please visit our floral store.
---
Services
Visitation
Thursday
November 5, 2020
1:00 PM to 2:00 PM
Woodlawn Funeral Home
375 Woodlawn Avenue | P.O. Box 445
Mount Holly, NC 28120
Send Flowers to Billie's Visitation
Guaranteed delivery before the Visitation begins
---
Funeral Service
Thursday
November 5, 2020
2:00 PM
Woodlawn Funeral Home
375 Woodlawn Avenue | P.O. Box 445
Mount Holly, NC 28120
---
Please note
Due to the current health crisis, and so that our time together can be safe for all, we ask that all visitors wear masks and practice social distancing while attending the visitation, funeral service and at the graveside.
Donations
COPD Foundation
Web: http://www.copdfoundation.org